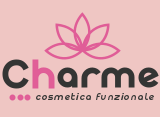 PREVENTION IS THE KEY TO HEALTHY SKIN
At twenty, perhaps, you don't think too much about wrinkles and signs of aging. Yet, it is precisely at this age that our body begins to slow down the processes of synthesis of new molecules and of repair. That is, the so-called physiological aging begins which, at the skin level, results in a loss of elasticity, turgor and brightness. The first wrinkles begin to appear, the emptying of volumes becomes more evident, the skin appears more dehydrated. Natural processes, caused, first of all, by a progressive decrease in hyaluronic acid, one of the main responsible for skin hydration.
The Charme line based on hyaluronic acid – with low and high molecular weight – is ideal for protecting the skin from damage caused by the signs of aging, stress, cold and even pollution

Charme is prevention
Suitable for all skin types, even the most sensitive as it is free of parabens, petrolatum, silicones, mineral oils and dyes.
Hyaluronic acid is a substance naturally produced by the human body, and is one of the most important components of connective tissue. Used daily, it has an effective anti-aging action, reduces expression wrinkles, improves the hydration and elasticity of the tissues in the areas most prone to relaxation and has an antioxidant action, protecting the skin from free radicals. principal of skin aging.
Charme the perfect match
Although precious, hyaluronic acid alone is not enough. It needs to be combined with other ingredients so that it can become the ideal ally that meets the specific needs of each type of skin. This is why high-quality fresh plant extracts, vegetable oils and butters are added to the CHARME products.
It is thanks to this mix of vegetable ingredients that VADERB has created the Charme line, to regain an elastic and resistant skin, keeping it youthful, luminous, hydrated and protected.